INVESTING IN WHAT MATTERS MOST…PEOPLE
A note from Pastor John Woodall
.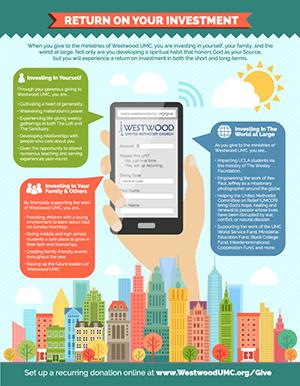 As I was sorting through the mail last week, I noted a letter from the Social Security Administration. I knew what it was immediately – the statement on what had been contributed in my account as well as the expected amount of benefits depending on the date of retirement. I have to confess, I have paid a lot more attention to this and the statement from the Board of Pensions as of late. I am glad there are people who have a specialty in investing so I don't have the burden of figuring out where to put the retirement funds.
.
That being said, there is something Linda and I, as well as many of you, have chosen to invest in for a long time – the community of faith. It's no secret that faith communities, like Westwood UMC, only exist because of the generosity of people who call this place home. Every time we give to our congregation, it's an investment in ourselves and our personal growth, an investment in our families, and an investment in the larger community. The faith community is not here to make a profit; it is here to create the tangible and intangible benefits that touch us at home as well as around the world.
.
As 2016 is soon coming to a close, I invite you to prayerfully consider how you will invest in the work of Westwood UMC next year by filling out the attached tear-off. Will you also pray about making a special gift to help us make up a $50,000 giving shortfall in this year's budget? I know God has great things in store for Westwood in 2017! (Click here to download pdf brochure.)
.
GIVING THRU SEPTEMBER 2016
Anticipated Giving: $400,312
Actual Giving: – $349,939
Current Shortfall: ($50,372)
.
WE CAN MAKE UP THE SHORTFALL
Approximate Shortfall: $50,000
# of Westood Attenders: ÷ 400
What It Would Take Per Person: $125
.
Some can give less. Some can give more. Help us start 2017 on the right track!
.
---
.
Two Ways To Invest In Westwood
.
.
2. Prayerfully complete the form below to help us budget for 2017.
.
.