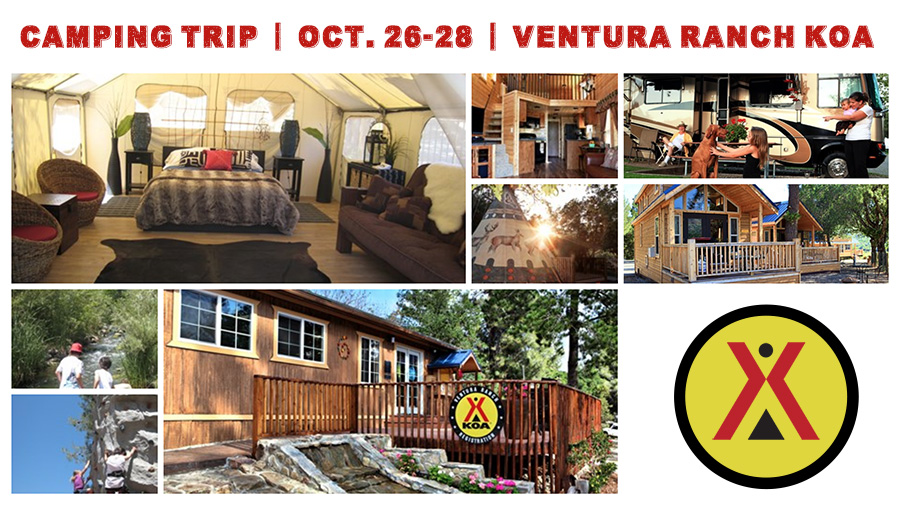 Relax away from the city as we camp in the beautiful California Hills! The Ventura Ranch KOA is a 76-acre campground nestled at the foot of Ventura County's highest mountain, Topa Topa. Enjoy nature, wildlife, gorgeous views, and clear star-lit nights. We are just off the scenic highway, 7 miles between Santa Paula and Ojai. Activities are fun for children and families! You will be busy making fun memories with arts and crafts, a huge jumping pillow, swing set / playground area, rock climbing tower, gem mining, or visiting the Bigfoot Watering Hole.
2 tent sites available ($133 each for two nights)
2 teepees available ($243 each for two nights)
Each option is a 4 person limit/site. If you'd like to add a person(s), the cost is $6 (children 3-12 years) and $10 (adults) per site/per night. Kids under age 3 are free.
There will be an additional food cost per person, which will be determined closer to the event date.
REGISTER by contacting Sabrina Simmons at 310.474.4511 or sabrina@westwoodumc.org. Payment is available via check, cash, or debit/credit card. If you are using a credit/debit card for payment, there will be an additional 3% to cover the transaction charge. Thank you for understanding.