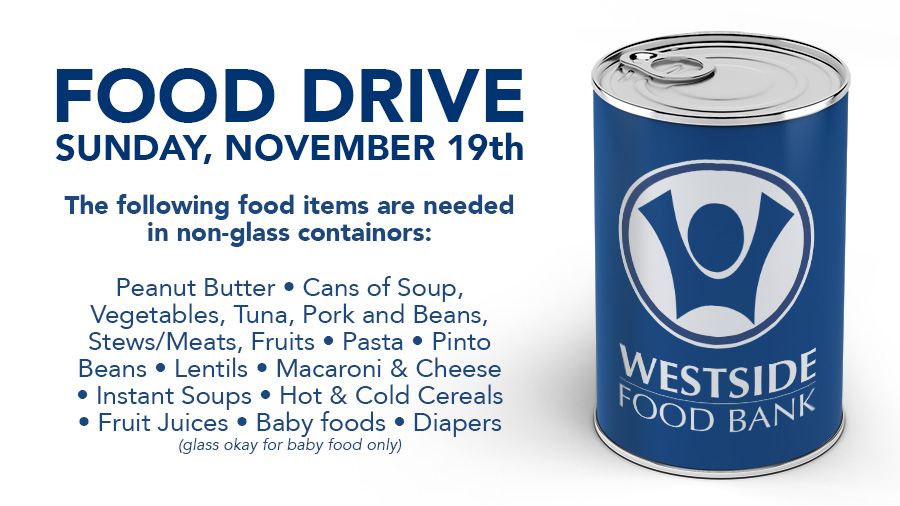 On November 19th, let's load up the barrels for the Westside Food Bank. These foods will reach children in need, low-income families, unemployed and underemployed individuals, the elderly, homeless people, and others in need throughout the Westside.
The following food items are needed in non-glass containers:
Peanut Butter • Cans of Soup, Vegetables, Tuna, Pork and Beans, Stews/Meats, Fruits • Pasta • Pinto Beans • Lentils • Macaroni & Cheese • Instant Soups • Hot & Cold Cereals • Fruit Juices • Baby foods (glass okay for baby food only) • Diapers
The Westside Food Bank distributes food to over 80 agencies to provide food to people without resources. WPC members and friends donate generously to the Food Bank through the church's Mission Outreach committee on the first Sunday of every month. The Westside Food Bank began in 1981, providing fresh produce, dairy products, baked goods, and canned and packaged food, giving agencies more time and money to devote to counseling and problem-solving for their clients. The Westside Food Bank collects food donated by religious and civic organizations, schools, and manufacturers, as well as unsold food from supermarkets, farmers, and bakeries. To supplement donated goods and provide balanced nourishment. Through monthly contributions to the Westside Food Bank since the mid 1980s, WPC is its largest private financial supporter. Visit their website at www.westsidefoodbankca.org.