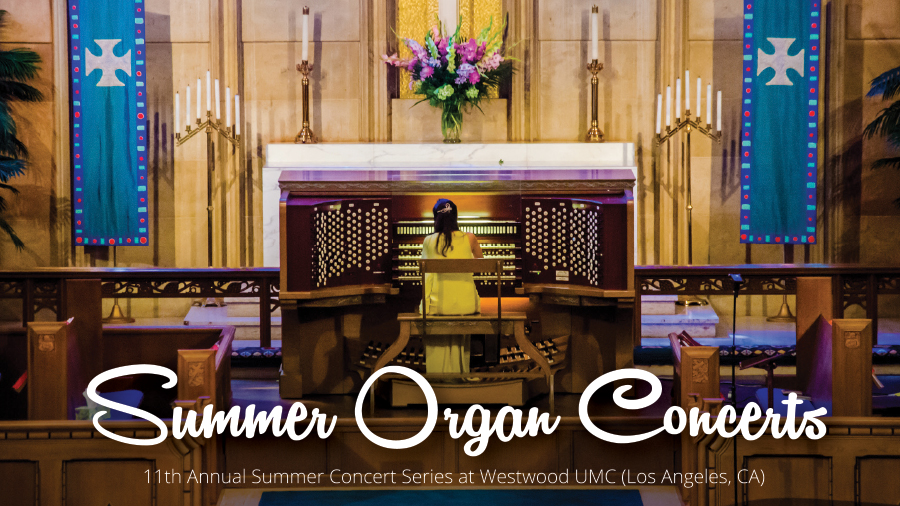 06 Jun

11th Annual "Summer Organ Concerts"
FREE ADMISSION
Join us for three 60-minute concerts by world-class organists performing on the landmark Shaffer Memorial Organ in a magnificent cathedral setting. Scroll down for bios.
CONCERT SCHEDULE
Sunday, July 10th (3pm) – JAEBON HWANG
Organist, Westwood United Methodist Church
Sunday, July 24th (3pm) – DOROTHY YOUNG RIESS, M.D.
Concert Organist – Composer
Sunday, August 7th (3pm) – MARK HERMAN
Theater Organist – Silent Film "Steamboat Bill Jr." (1928) starring Buster Keaton (on screen)
LOCATION
Westwood United Methodist Church – map
10497 Wilshire Blvd
Los Angeles CA 90024
310.474.4511
FREE PARKING: Abundant secure parking is available for all events at the church. It is located below Belmont Village, the building east of the Sanctuary. From Wilshire Blvd., use the driveway by the main steps in front of the Sanctuary and proceed under the overhang to the underground parking lot. Please observe the signs that identify which spaces are for church use. After parking, proceed to the stairwell and elevator located at the church end (west end) of the parking structure.
JAEBON HWANG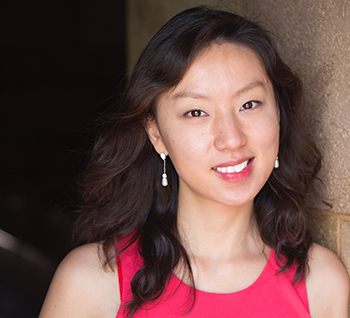 Jaebon Hwang is a Los Angeles-based organist and composer. She entered the Korea National University of Arts as a young talent in the Pre-College Division and received a Bachelor of Music in composition. Following her undergraduate studies, she earned a Master of Arts in Scoring for Film & Multimedia from New York University and her submission to the 8th Annual Young Film Composers Competition, sponsored by Turner Classic Movies, won the 3rd prize among over 850 international entries. She has been repeatedly chosen to participate in three of the ASCAP film scoring workshops, most notably the ASCAP Television & Film Scoring Workshop with Richard Bellis. She was also commissioned to be one of the composers for the premiere of the French silent film "Les Deux Timides" (René Clair, 1929) at the 2008 Tribeca Film Festival.
In addition to her compositional pursuits, she has continually made strides as a church musician. She was awarded the Fellow of American Guild of Organists (FAGO), the organization's highest level of certification, and won the 3rd prize at the 13th National Organ-Playing Competition sponsored by The Ruth and Clarence Mader Memorial Scholarship Fund. Since 2014, she has served as Organist at Westwood United Methodist Church where she presides over one of the largest organs in the region. This follows her tenure as Organ Scholar and Assistant Organist at First Congregational Church of Los Angeles. She earned a Graduate Certificate in Organ Performance from University of Southern California with honors and is currently pursuing a Doctor of Musical Arts degree at the same institution. Ms. Hwang maintains an active performance schedule as a recitalist and as a collaborative artist.
DOROTHY YOUNG RIESS, M.D.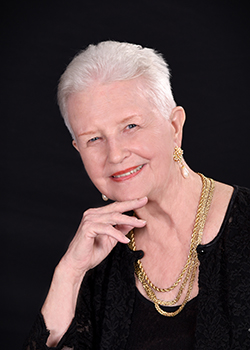 "Dr. Dorothy" Young Riess started piano with her mother at age four and won her first competition at seven. Her father, Roy Wallace Young, a concert violinist and composer, coached her in dynamics and interpretation. As a teenager she studied advanced piano with Dean Clarence Burg at Oklahoma City University and performed the Gershwin Piano Concerto with the OCU symphony at 14. The summer of her 16th year she took organ lessons to become high school organist and had her own radio show of pop tunes on the Hammond at KTOW, Oklahoma City.
Entering The University of Oklahoma at 17, she became a protégé of the legendary Mildred Andrews and won many competitions including first place in the National Young Artists Competition in Organ Playing in San Francisco, 1952, at age 20. After graduation in 1953, she studied in France with Marcel Dupré and was guest organist at the American Church, Ave George V, Paris. A chance encounter led to a position as organist and choirmaster at Church of the Holy Spirit, Nice, France, and later, at St Paul's Within the Walls, Rome, Italy where she served for two years.
Awarded a full scholarship to Yale University, she studied organ with Frank Bozyan, and composition with Putlitzer Prize winner, Mel Powell, and performed her Masters recital in Woolsey Hall, including the difficult and seldom heard "Variations on a Recitative" by Schoenberg. The death of her beloved father from complications of Diabetes changed her life resulting in a decision to become a Doctor. After pre-med studies at Columbia University, New York, she was admitted to The University of Oklahoma School of Medicine at age 33, and awarded a Doctor of Medicine degree in 1969. Four years of post-grad study qualified her to practice Internal Medicine which she continued in Pasadena, California, until retirement in 2000.
After relocating to Las Vegas, she resumed organ playing and joined the American Guild of Organists, Southern Nevada and Los Angeles Chapters. She performed her 75th birthday concert (2006), her 80th (2011), and her 85th (2016) at The University of Nevada Las Vegas. She was featured guest artist for American Guild of Organists Region IX Conventions in San Francisco, July 2011, performing at First Congregational Church, Berkeley, the same venue as her winner's recital in 1952, and Bakersfield, June 2013, at Olive Drive Church. She maintains an active concert schedule to share the music she loves with her friends. Her compositions are available online at www.sheetmusicplus.com.
She is the widow of Dr. Louis C. Riess, B/G USAF Ret., (1925-2015), has two stepsons and two grandchildren. Besides music, she enjoys photography, languages, travel and good friends.
MARK HERMAN
Born in 1987, Mark Herman is one of America's busiest young theatre organists, performing over 30 concerts and silent film presentations each year across the US and abroad. In 2012, he was named the American Theatre Organ Society's Organist of the Year and is the youngest person ever to receive the prestigious honor. Previously, he was overall winner of the Society's Young Theatre Organist Competition in 2004.
He studied theatre organ with the late John Ferguson of Indianapolis, who was recognized worldwide for his skills teaching the art of the theatre organ. His classical piano studies were with Christine Freeman of Fort Wayne, Indiana. He earned a Bachelor of Fine Arts degree in Theatre Arts/Management from DePaul University in Chicago.
Mark has been featured on several episodes of American Public Media's Pipedreams program, and has performed for countless conventions of the American Theatre Organ Society, American Guild of Organists, and Organ Historical Society. On the international stage, he has toured in Australia, New Zealand, Switzerland, and the United Kingdom.
He currently resides in Los Angeles, where he is President and Tonal Director of the Los Angeles Organ Company, the Allen Organ dealer for the Greater Los Angeles Area. He is in demand as a voicing specialist and tonal consultant for Allen Organs and is proud to be an Allen Artist, showcasing new Allen Organs in the US and beyond. Learn more at www.markhermanproductions.com.