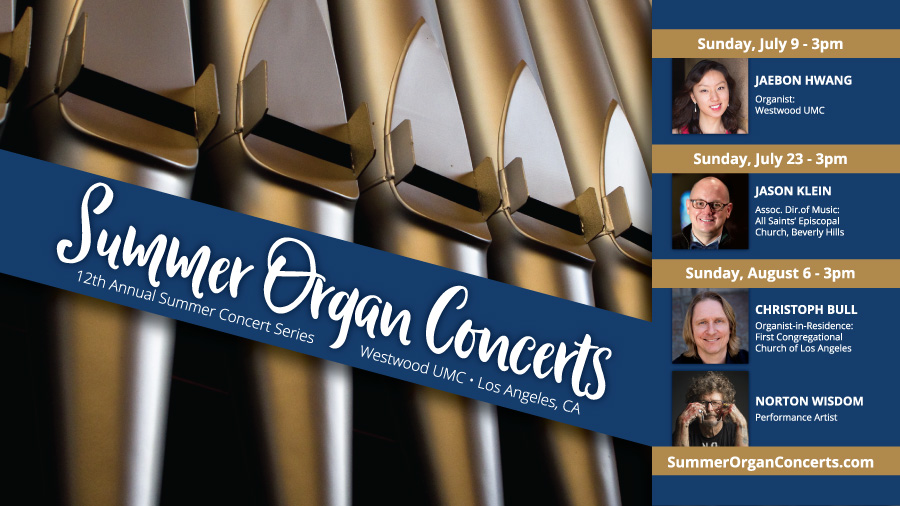 24 May

12th Annual "Summer Organ Concerts"
FREE ADMISSION
Join us for three 60-minute concerts by world-class organists performing on the landmark Shaffer Memorial Organ in a magnificent cathedral setting. Scroll down for bios.
CONCERT SCHEDULE
Sunday, July 9th (3pm) – JAEBON HWANG
Organist – Westwood United Methodist Church (Los Angeles)
Sunday, July 23rd (3pm) – JASON KLEIN
Associate Director of Music – All Saints' Episcopal Church (Beverly Hills)
Sunday, August 6th (3pm) – CHRISTOPH BULL
Organist-in-Residence – First Congregational Church of Los Angeles
University Organist – University of California Los Angeles
NORTON WISDOM – Performance Artist
LOCATION
Westwood United Methodist Church – map
10497 Wilshire Blvd
Los Angeles CA 90024
310.474.4511
FREE PARKING: Abundant secure parking is available for all events at the church. It is located below Belmont Village, the building east of the Sanctuary. From Wilshire Blvd., use the driveway by the main steps in front of the Sanctuary and proceed under the overhang to the underground parking lot. Please observe the signs that identify which spaces are for church use. After parking, proceed to the stairwell and elevator located at the church end (west end) of the parking structure.
JAEBON HWANG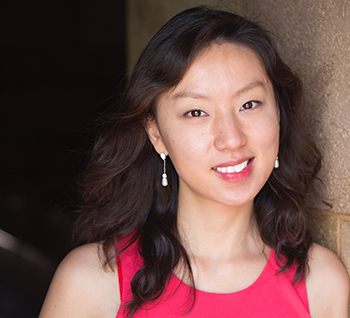 Jaebon Hwang is a Los Angeles-based organist and composer. She entered the Korea National University of Arts as a young talent in the Pre-College Division and received a Bachelor of Music in composition. Following her undergraduate studies, she earned a Master of Arts in Scoring for Film & Multimedia from New York University and her submission to the 8th Annual Young Film Composers Competition, sponsored by Turner Classic Movies, won the 3rd prize among over 850 international entries. She has been repeatedly chosen to participate in three of the ASCAP film scoring workshops, most notably the ASCAP Television & Film Scoring Workshop with Richard Bellis. She was also commissioned to be one of the composers for the premiere of the French silent film "Les Deux Timides" (René Clair, 1929) at the 2008 Tribeca Film Festival.
In addition to her compositional pursuits, she has continually made strides as a church musician. She was awarded the Fellow of American Guild of Organists (FAGO), the organization's highest level of certification, and won the 3rd prize at the 13th National Organ-Playing Competition sponsored by The Ruth and Clarence Mader Memorial Scholarship Fund. Since 2014, she has served as Organist at Westwood United Methodist Church where she presides over one of the largest organs in the region. This follows her tenure as Organ Scholar and Assistant Organist at First Congregational Church of Los Angeles. She earned a Graduate Certificate in Organ Performance from University of Southern California with honors and is currently pursuing a Doctor of Musical Arts degree at the same institution. Ms. Hwang maintains an active performance schedule as a recitalist and as a collaborative artist.
JASON KLEIN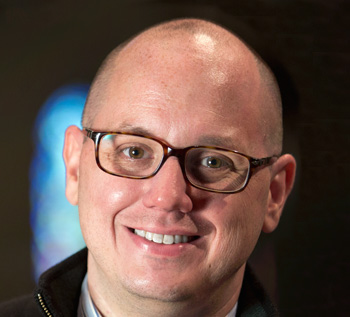 Jason serves as Associate Director of Music at All Saints' Parish in Beverly Hills, CA where he directs the Chorister Program, plays for weekly liturgies and accompanies the All Saints' and Parish Choirs. He previously served parishes as Organist or Organist & Choirmaster in Chicago, IL, Huntington Beach, CA, San Diego, CA and Westfield, NJ.
He has performed at Orchestra Hall in Chicago, IL with the Chicago Youth Symphony and Segerstrom Hall in Costa Mesa, CA with the Pacific Chorale as well as Solo Recitals at the Basilica of the Sacred Heart in Newark, New Jersey and throughout the United States. In August of 2014, Mr. Klein served as Organist in Residence at St. Paul's Cathedral in London with the Choir of St. Wilfrid's from Huntington Beach, CA.
Mr. Klein is currently the Irene E. Robertson Scholar for Music and a candidate for the Master of Music Degree in Organ Performance at the University of Southern California's Thornton School of Music studying with Dr. Ladd Thomas. His previous studies in Organ Performance were with Dr. Ladd Thomas at the University of Southern California's Thornton School of Music as well as studies in Sacred Music at Northwestern University in Evanston, IL with Margaret McElwain Kemper and Dr. David Craighead.
CHRISTOPH BULL
rganists of our times. In his concerts, he presents the multicolored sounds, styles and collaborative aspects of the organ in a new light and excites wide audiences.
Born in Mannheim, Germany, he's performed and recorded around the world, including France, Switzerland, Austria, Denmark, Northern Ireland, Russia, India, Taiwan and El Salvador, at national and regional conventions of the American Guild of Organists and at venues such as Walt Disney Concert Hall in Los Angeles, Lincoln Center in New York City, Segerstrom Concert Hall in Costa Mesa, the Cathedrals of Moscow, Saint-Denis and Salzburg as well as rock clubs like The Viper Room, The Roxy and The Whisky in Los Angeles. He's collaborated with leading orchestras, conductors, choirs and ensembles including the Los Angeles Master Chorale, James Conlon, Carl St.Clair, Pacific Chorale, Pacific Symphony and Grammy-winning Southwest Chamber Music.
He improvised his first melodies on the piano at the age of five and gave his first organ recitals and rock concerts with a band at the age of twelve. He concertized with the National Youth Orchestra of Germany and was the subject of a longtime study about highly gifted musicians together with other artists such as pianist Lars Vogt.
Following his graduation at Karl-Friedrich-Gymnasium Mannheim and organ studies at University of Church Music in Heidelberg and Musikhochschule Freiburg, he earned degrees at Berklee College of Music (majoring in Songwriting, graduating summa cum laude), University of Southern California (majoring in Organ) and American Conservatory of Music (majoring in Organ and Sacred Music) on multiple scholarships. Learn more at www.christophbull.com.
NORTON WISDOM
Norton Wisdom began his artistic life at fourteen when he attended Chouinard Art Institute in Los Angeles. A student of the luminous John Altoon (one of the preeminent artists of West Coast avant-gardism of the 50's and 60's), Wisdom was introduced, not only to the fundamentals of figure drawing, but also to the bold conceptual-based and humanistic thinking which would lay the groundwork for his future endeavors.
Wisdom first began exhibiting his own work in San Francisco in the 1970s but withdrew all of his work from galleries in 1974 and spent the following eight years immersed in studio work. That same year he became a lifeguard and the endless hours he spent staring out at the ocean while working on the beaches of Malibu, Topanga and Zuma contributed to his minimalist vision as a painter. In the late 1970s while in Germany for an exhibition, Wisdom painted over 150 meters of the East side of the Berlin wall during the night using searchlights to illuminate his work. He was subsequently arrested, detained and sent back to the U.S. but the experience convinced him that he could no longer work in the static studio environment and soon he began collaborating with punk bands and working in a performative style. Wisdom has been painting to live music ever since with bands like Panic and Banyan along with musicians Mike Watt and Stephen Perkins. His live, improvisational paintings are temporary interpretations of music that only exist during the space of the performance. The paintings are destroyed but a c-print of the piece resurfaces in remix collages mounted on canvas.
Wisdom has performed around the world at venues as varied as the Winter Olympics in Salt Lake City, to the Butu Dance Company in Japan, and locally at the Walt Disney Hall in downtown Los Angeles. His paintings and sculpture can be found in the permanent collections of notable museums including the La Jolla Museum of Contemporary Art, the Milwaukee Art Center, Wisconsin, and the Orange County Museum of Art. Learn more at www.nortonwisdom.com.